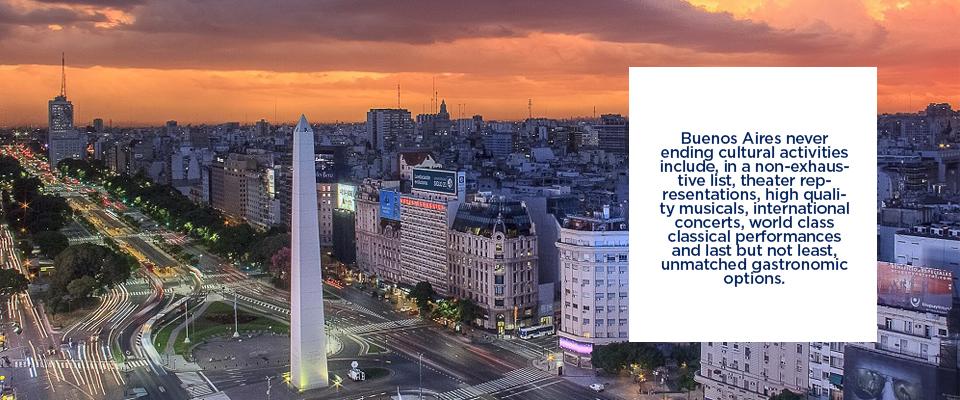 Argentina gets back on track
Argentina is in the process of undergoing important economic changes, more specifically, the kind of structural reforms that will pave the way to sustainable growth and development in the medium and long run.

The process started in 2016 when Mr. Mauricio Macri was elected as President of Argentina and his main goal was to get the country back on track, meaning that rationality, certainty and the rule of law be the rule from then on, tells ambassador Facundo Vila.

However, right after taking power some concrete economic situations had to be tackled. In a non-exhaustive list, macroeconomic variables were out of control, serious distortions in relative prices created a huge energy problem, utility prices were heavily and regressively subsidized and last, but not least, the country still had some unresolved external liabilities.

After slightly over two years in government, although many issues still remain unsolved, the country has made, in spite of the unfavorable international context, tangible progress in many areas.

Argentina did finally resolve the issue of its defaulted foreign debt, reaching an agreement with the holdouts, the utility price problem was tackled progressively and now the prices reflect real energy costs, the fiscal deficit has been decisively addressed by means of gradual cuts on the different levels of both the federal and provincial governments, and this administration has advanced substantial measures in an attempt to improve the general business climate, especially in areas such as transparency simplification of business procedures.

Argentina's GDP grew at 2,5 % in 2017 and though the economy was hit by some external shocks during the first two quarters, it is expected that economic activity will rebound by the end of this year.
How has Argentina benefited from the free trade agreements?
Argentina has benefited significantly from all the free trade and integration agreements of which the country is a full member.
In this respect, for a country the size of Argentina, gaining market access on a predictable and nondiscriminatory way has always been a key priority.
From an institutional standpoint, Argentina is an active member of the multilateral and regional trade system, having joined GATT in 1967, ALADI (Latin American Integration Association) in 1960 and is a founding member of Mercosur (Economic Integration Treaty of "Asunción" signed between Brazil, Argentina, Uruguay and Paraguay in 1991).
The Mercosur is by large the main trade partner of Argentina, with a combined GDP of 4,5 U$ trillion and no internal tariffs, it represents one of the largest free trade areas of the world. For 2017 the total value of Mercosur intra-bloc trade was around 14 % of total Mercosur exports.
Since the signing of the Asunción Treaty, Mercosur has turned into a free trade area of more than 250 million people, and a yet imperfect custom union area.
Likewise, in terms of intra-zone trade has increased exponentially for all members. In the case of Argentina, Mercosur accounts for approximately for 28 % (as an average of the last 10 years) of its total exports.
Argentina's exports have not only benefitted in value and volume, but also qualitatively, particularly with respect to both the automotive industry and agroindustry, turning Brazil into an important destination for high value added products.
Last but not least, the ALADI treaty (Latin American Integration Association) represents another preferential area for market access, covering all countries in Latin America.
Investment opportunities in Argentina
Finnish companies could benefit greatly from both trade and investment opportunities in Argentina and the Mercosur.
The fundamentals of Argentina are strong, being the 3rd largest GDP and GDP per capita in Latin America, with 630 billion and 20,700 respectively in U$ dollars.
Geographically speaking, it is the 8th largest country in the world, with 53 % of agricultural land and a world top exporter of soybean, oilseeds, lemon, corn and lithium among others. Argentina has large oil and gas resources (world second largest shale gas reservoir) and a qualified labor force, ranking #1in Latin America's Human Capital Index.
In the technological area, Argentina is world class in nuclear research and in the production and export of technology in that field, having exported as of yet six reactors for research and medicinal uses to countries like Australia and Holland.
Incidentally, another sector where Argentine excels, is satellite production, in a recent world survey done by Euroconsult International, the ranked as one of the five best regions in that industry.
With respect to specific business projects, seven sectors represent business opportunities to participate in the financing, engineering, development and operation of projects whose value, on an aggregate basis, is approximately 220 USD billions.
Broken down by sector, the values would be as follows: infrastructure (USD 130 bn), mining (USD 30 bn), power and renewable energy (USD 20 bn), oil and gas (USD 15 bn), agribusiness (USD 13,5 bn), real estate (USD 5 bn), forestry and telecom and high technology (USD 5 bn) are among the highest performers.
Infrastructure, mining and energy sectors alone account for 81 % of the total, comprising investments projects in:
1) Roads, railways, water and sanitation, irrigation, ports and airports, urban mobility and public housing
2) Shale oil and gas, tenders for thermal, hydro, wind and biomass.
Regarding transportation infrastructure, a few indicators give a clear picture of Argentina's current situation, less than 35 % of the country's roads are paved, which is a significantly lower number than that of its regional peers.
Additionally, rail transportation is marginal, particularly for a country the size of Argentina, to the point that barely 5 % of freight is transported by railroads.
Furthermore, it is no secret that Argentina has extraordinary conditions for agriculture and forestry, namely rich soils, a mild climate and abundant rainfall, along with exceptional human and technology resources.
Breaking down the sector in value terms, animal protein represents business opportunities of 10 billion USD, mainly for of cattle raising expansion (10 mn heads), swine (200 k) and poultry (1,5 bn).
By the same token, in the case of forestry, the sector is worth, on a conservative basis (provided that the potential for biomaterials has not yet been assessed), approximately 2,5 billion USD, not only for forestry but also for cellulose, paper industry and biomass.
Landing in Argentina
Argentina has traditionally been a country that combines in different doses, creativity, resilience and drive to overcome unexpected and adverse economic situations.
It is then no wonder that entrepreneurial spirit runs deep in the veins of most Argentinians, who were able to account for four of the seven largest tech unicorns in Latin America during the 2000s.
However, the philosophy since 2016 is to create the conditions that will promote and boost the local ecosystem for startups and young entrepreneurs, particularly in technology sectors.
In this respect, one of the key pieces of legislation is the "Ley de Emprendedores" (Entrepreneurship Law) that has been enacted last year and allows, among other things, to register a business 100 % online in 24 hours. The legal entity that results from this fast-track process is the registration of a simplified business entity (SAS) that allows entrepreneurs to also open a bank account, identification number and a business temporary address.
Likewise, given that typically one of the main bottlenecks of startups is financing access, particularly in countries like Argentina, the government has actively advanced measures towards Venture Capital Development.
Namely, by creating and supporting accelerators, expanding venture capital funds through a public-private cofounding system and providing different tax incentives to invest in new companies of venture capital funds.
Regarding the foreign sector, both for trade in goods and services, significant progress has been made to redress the myriad of restrictions that were the rule until 2015, and at the moment, there are no longer limitations for financial capital movements.
Regarding tax issues, Argentina's tax system is a 100 % consistent with OECD rules, and although the country is not still a full member of that organization, it is an associate member of the OECD fiscal committee, meaning that in the area of taxation Argentina shares the same rights and obligations of all countries within that organization.
Tax benefits for companies doing business in Argentina depend on a number of factors and situations, but in general and in relative terms, investing in sectors like renewable energy and infrastructure would be subjected to different types of incentives.
Another important aspect to be accounted for is the availability of qualified human resources. Argentina has the highest human development index in Latin America and international companies have traditionally targeted the country for recruiting purposes.
Institutionally speaking, for the companies evaluating landing in Argentina there is a newly created government agency, the Argentina Investment and Trade Promotion Agency (AAICI) that assists foreign companies in looking for investment opportunities and seeking advice for setting up a company.
The AAICI provides assistance in a comprehensive manner, not only in terms of identifying opportunities and potential local partners, but also providing assistance in many areas to facilitate the setting up of a company in Argentina.
Finally, with respect to the local business culture, it is fair to say that Argentina, being an immigration country whose historical DNA is basically Mediterranean (mostly Italian and Spaniard), the way of doing business is close to that of Southern Europe in that personal relations do have a bearing.
Tourism
Argentina is, geographically speaking, a huge inverted triangle pointing to Antartic. It stretches 4000 km from the subtropical north all the way to sub-Antarctic in the southern Patagonian region.
The country literally offers, for those looking for spectacular natural beauty and outdoor activities, a wide range of options all year round.
On the northeastern part, the magnificence of the famous Iguazú Falls, a world wonder shared with both Brazil and Paraguay, is an absolute must for anyone who visits Latin America.
Going west, along the same latitude, we get close to one of the most beautiful pre-Andean regions of Latin America, in the Argentinian province of Jujuy, where the so called "Mountain of the 7 colours" (El Cerro de los 7 colores) is a true feast to the eyes.
On the east-central part of the country, the world renowned winery region of Cuyo awaits those looking for a perfect combination of nature, ski resorts and some of the world's best red wines, particularly the emblematic wine strain of Argentina, the iconic Malbec.
Further south the largest region of Argentina, Patagonia, begins with all its splendor and mystery. Once home to the largest dinosaurs ever to have lived on earth, whales famed sanctuary of Valdés peninsula, endless beaches crowded with sea lions and penguins, a 250 square kilometers glacier, astonishing landscapes of lakes and forests in the Andean mountains, challenging slopes for off-piste skiing, southernmost vineyards of the world, all of these are the trademarks of Patagonia, the land that once marveled Charles Darwin on his trip to South America.
However, in addition to nature Argentina's vibrant cultural life has also a bit for every taste. Tango, a living passion shared with Finland, is alive in every corner of Buenos Aires, the capital of the country and its cultural proud. Buenos Aires never ending cultural activities include, in a non-exhaustive list, theater representations, high quality musicals, international concerts, world class classical performances and last but not least, unmatched gastronomic options.
For more information about Argentina